Summer Boron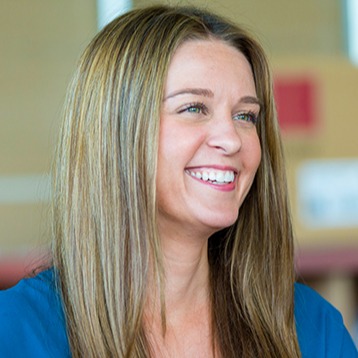 Relentless Ally
Marketing Pro Discovers New Purpose
Summer Boron always counted herself among the lucky ones.

She discovered her passion for construction at an early age, and over the course of nearly two decades, built a name for herself as one of the industry's top marketing professionals in the Northwest. Even more, she took great pride in the contributions Howard S. Wright, a Balfour Beatty company, made to her community. Whenever Summer happened to drive past a Howard S. Wright project, friends and family patiently awaited her predictable exclamation: "We built that!"

Challenged and creatively fulfilled, Summer couldn't imagine another career path. That was until her mentor, retired company executive John Bullwinkel, challenged her with a question that stuck like freshly poured cement: "What's next?"

As time passed, Summer never forgot John's question. "Were there greater, unexplored ways I could add value?" Summer pondered as she went about business as usual in the pursuit and presentation world.

While developing a new national business acquisition and risk management process, Summer became even more intrigued by the operations side of the business. At the same time, the company's Portland team was seeking a candidate to oversee its Special Projects Group (SPG). They didn't have to look far. Local leadership recognized the full breadth of Summer's potential and offered her the opportunity to step into a project executive role.

Surprise, doubt, curiosity. Summer felt a rush of emotions as she considered the prospect of running projects when her entire career had been built around winning them. But Dan Peyovich, president of the company's Northwest operations, and Troy Dickson, senior vice president and business unit leader in Oregon, knew she had exactly what it took for success.

And so this once die-hard marketer set out to write an unconventional new chapter in her life's story. With the unwavering support of Dan, Troy, and the Portland SPG team, Summer dove headfirst into her new role. She quickly came to understand why so many builders gravitate towards this line of work.

"I love the fast pace and constant ebb and flow of SPG projects," praises Summer. "I come in every day with a plan, and that plan always changes. I've learned more in the last year-and-a-half than during my whole career!"

Today, Summer leads a team of 23 who, on average, simultaneously manage the construction of 30 projects. Having grown into a career she never in her wildest imagination dreamed of pursuing, Summer has become a role model for women in the AEC industry.

In 2018, the Daily Journal of Commerce affirmed Summer's impact, naming her a recipient of the prestigious Women of Vision Award. The program honored 51 women shaping the Pacific Northwest built environment. Although the award was a tremendous honor, Summer cites her proudest moment as receiving a text from one of her teammates that affirmed her contributions to their team, the company, and the industry at large.

"Summer has consistently demonstrated her ability to leverage the strengths of the company and deliver on the best interests of our clients, trade partners, and the communities we serve," comments Troy Dickson.

Summer is living proof that there is tremendous untapped potential in our industry.