Keenan Arnold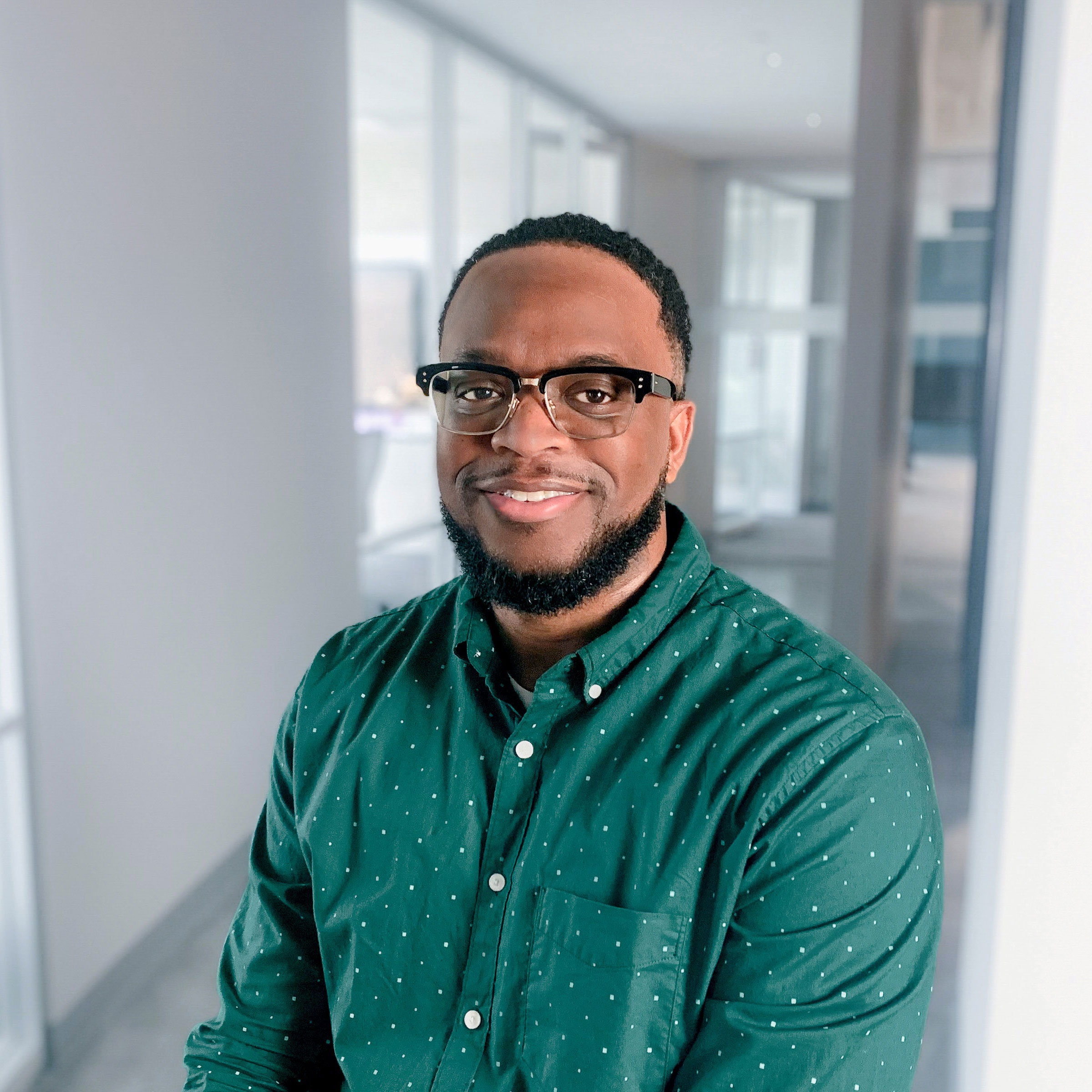 Relentless Ally
Investing in Education
Keenan Arnold never expected to become an expert in the estimating, pursuits and preconstruction of educational facilities. However, after proving his aptitude, the Atlanta-based senior preconstruction manager has fallen into the role naturally, leading preconstruction efforts and training others to do the same in the education market and beyond. Keenan's work doesn't stop when construction begins; he's investing in the communities he helped build and paving the way for a more inclusive industry.
Keenan's interest in construction began at a young age. At eight years old, while attending a "Bring Your Child to Work" day with his mother, he was asked what he wanted to be when he grew up. To Keenan's surprise, his mother insisted he tell the group he wanted to become an architect.
"I don't think I really knew what an architect was at the time," he laughs. "But I was creative and loved to draw, and she knew I would be well-suited for this industry. She saw something in me and knew this was the path for me."
That moment planted a seed in Keenan, and he carried an interest in architecture through to college. After two years, he decided to broaden his horizons and switched his major to construction. And he's never looked back. Keenan began his career estimating for a concrete formwork contractor before making his way to Balfour Beatty.
Expanding Expertise
In his first few years with Balfour Beatty, Keenan worked on a wide range of projects across diverse market sectors. One of the first markets on which he honed his skillset was in adaptive reuse. The knowledge and skills he took away from these projects would benefit the business over the next years in unexpected ways.
During the early days of the pandemic, Keenan found himself filling in gaps and assisting with preconstruction efforts on existing projects he had not previously worked on. Many of these were K-12 projects, which encompassed both renovations and additions. Through his experience with adaptive reuse, Keenan unexpectedly found himself operating within a new market that took advantage of his expertise.
Using what he learned on past projects, he quickly became adept at leading the preconstruction effort for K-12 projects. Balfour Beatty's industry-leading and comprehensive preconstruction services are a differentiator for our clients, and Keenan plays a major role in not only helping win many projects, but he also ensures that they our project teams are equipped with the proper budgets and subcontractor input needed to successfully build the project.
In addition to his work on K-12 education projects, Keenan brings his expertise to a variety of market sectors. Keenan has made his mark on Atlanta by leading preconstruction efforts on major projects such as the Hotel Row Adaptive Reuse Project, Atlanta Mission's Restoration House, Novel Midtown Residential Tower and The Krog District.
"Keenan understands the preconstruction process thoroughly and he is invaluable to our team," says Amar Vel, senior vice president of preconstruction in Atlanta. "We can count on him to provide insightful guidance on every aspect of a project, whether for marketing, operations, scheduling or estimating. He has built an excellent rapport with both internal and external clients, and we are truly fortunate to have him as a leader in the business."
Investing in His Community
An Atlanta native, Keenan takes great pride in Balfour Beatty's impact on his local community. He enjoys pointing out Balfour Beatty projects when driving through the streets of Atlanta with friends and relishes building in his hometown.
"One of the things I really like about this industry is that what we're doing today could have an impact for decades to come," he says. "We're building projects that will last for a lifetime."
Keenan has also had the unique opportunity to work in spaces he was familiar with as a child, including some of the very same educational facilities he once attended. He even led preconstruction on a project at his former high school. "I got very nostalgic walking through the hallways of my old high school," he says. "It means a lot to get the chance to build in these spaces that built me."
While some may be content to move on from a project after its completion, Keenan and his teammates have identified opportunities to continue investing in the communities they've built.
Keenan has returned to schools our teams built to discuss the construction industry with students, introducing them to a potential career path they may not have otherwise discovered. Thus far, Keenan and his teammates have participated in career days and arranged informal class visits with several schools. He hopes to start a formal program that will bring this message to more schools in the Atlanta area, allowing children to explore all aspects of construction such as architecture, engineering, project management and design.
"Construction is a vital industry but one that a lot of kids might not know much about," Keenan explains. "We want to get them interested in what we do and let them know that there is a lot of opportunity out there for them in the construction industry."
A NOBLE Pursuit
In addition to having a heart for our younger generations, Keenan also leads the Atlanta chapter of Balfour Beatty's Network of Black Leaders and Executives (NOBLE) employee affinity group. The group advocates for African American representation across the company and into our communities. He has been a member of the group since its inception in 2021 and is now in his second year of leading the local chapter.
Recruiting diverse talent is one of the group's primary focuses. Through his work with NOBLE, Keenan has had the opportunity to partner with Historically Black Colleges and Universities (HBCU) to attend career fairs and hiring events to discover future industry talent and ensure students know what opportunities are available to them.
The group has also forged meaningful relationships with local minority and women owned business enterprises (MWBE) that open the door for future partnering opportunities. Keenan recently organized a MWBE outreach event that brought together 50 attendees from a diverse pool of local subcontractors.
"We want to make MWBE participation part of our industry fabric," Keenan says. "Our goal is to expand the pool of subcontractors we're choosing from and make sure everyone has a fair shot."
Whether he is putting together a project bid, organizing outreach events or advocating for the advancement of diverse construction professionals, Keenan lives out Balfour Beatty's people-first culture in all his endeavors, creating an industry where everyone can learn, grow and thrive.