Serving Up Restaurants on a Silver Platter
by Balfour Beatty
Most people have a favorite chain restaurant and can easily recall its distinctive interior style – familiar color palettes, architectural accents and furniture combine to provide patrons with that brand's signature experience. That familiarity is intentionally designed and requires a construction partner with the expertise and dedication to deliver the restaurant's signature style.
Balfour Beatty has established longstanding and successful partnerships with clients such as Hawkers and Brixx Wood Fired Pizza by leveraging our extensive network of trusted trade partners and establishing effective strategies to work with specialized owner vendors. On each project, our teams build lasting partnerships through dynamic spaces that strengthen our clients' dining experiences and help drive their business success.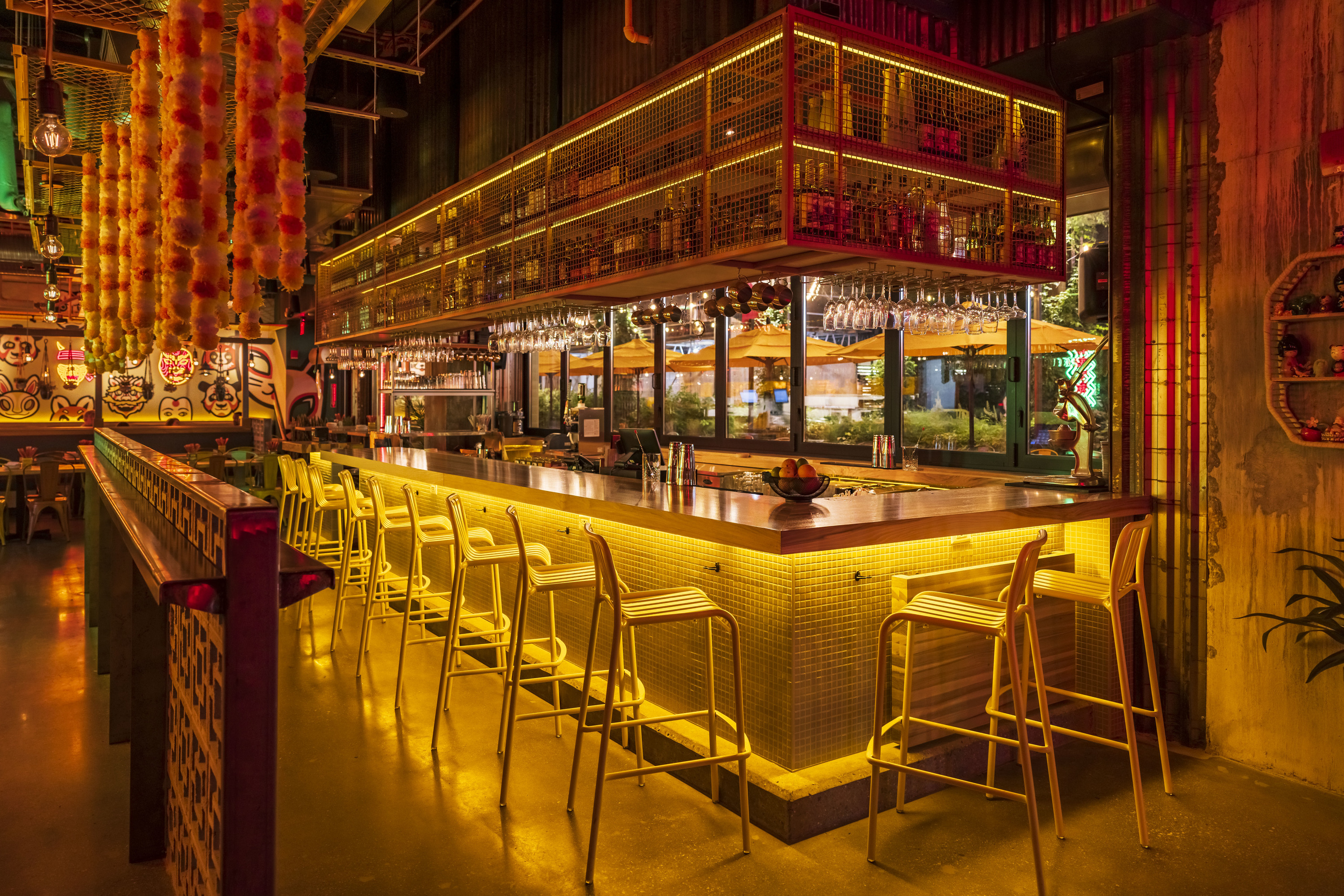 Defining the Brand
Restaurant clients, particularly chain restauranteurs, value a consistency of experience across locations. And so do their many patrons.
From a project's outset, our teams seek to understand our clients' brand identity. For repeat clients like Hawkers and Brixx, this relationship and brand understanding grows exponentially more valuable on each project.
"When you know the brand and their processes, how they operate and what vendors they use, it makes the construction process a seamless experience for the client," says Mike Wehner, operations director. "The more we demonstrate our repeated successes in restaurant construction, the more clients understand how working with Balfour Beatty can be their 'easy button.'"
One key to Balfour Beatty's repeated success is assembling small, flexible project teams that thrive within the market's unique requirements including – executing faster-paced schedules, understanding clients' brand philosophies and delivering an exciting variety of restaurant styles.
Restaurant project managers must also be master communicators and coordinators. Due to their specialty equipment needs and unique design finishes, clients often contract select scopes to their vendors of choice.
Managing third parties also presents an opportunity to build relationships that guarantee success on future projects. When the vision of the client and the experience of the end user is the goal, the direction is always clear for all parties involved. Balfour Beatty stands at the forefront of building teams that excel at operating this way.
Building an Experience
Unifying Balfour Beatty's project teams and trade partners around a client's vision is critical to delivering a restaurant's unique ambience
Hawkers is a regional chain serving pan-Asian street food. Each restaurant combines bright colors, industrial elements and eclectic décor to evoke the vibrant night life of cities like Singapore and Hong Kong. Every location is distinctive, but undeniably feels like Hawkers. And Balfour Beatty has now built them in Charlotte, North Carolina, Nashville, Tennessee and most recently at the Ballston Exchange in Arlington, Virginia.
Hawkers, like many restauranteurs, has well-established and trusted vendors. For example, a steel mill in Tennessee produces many of the accent pieces that give each Hawkers location its industrial style.
On every project, our teams worked closely with Hawkers' construction managers and their steel vendor to ensure that one-of-a-kind light fixtures, bar cages and other features are built to correct field specifications and match the Hawkers atmosphere.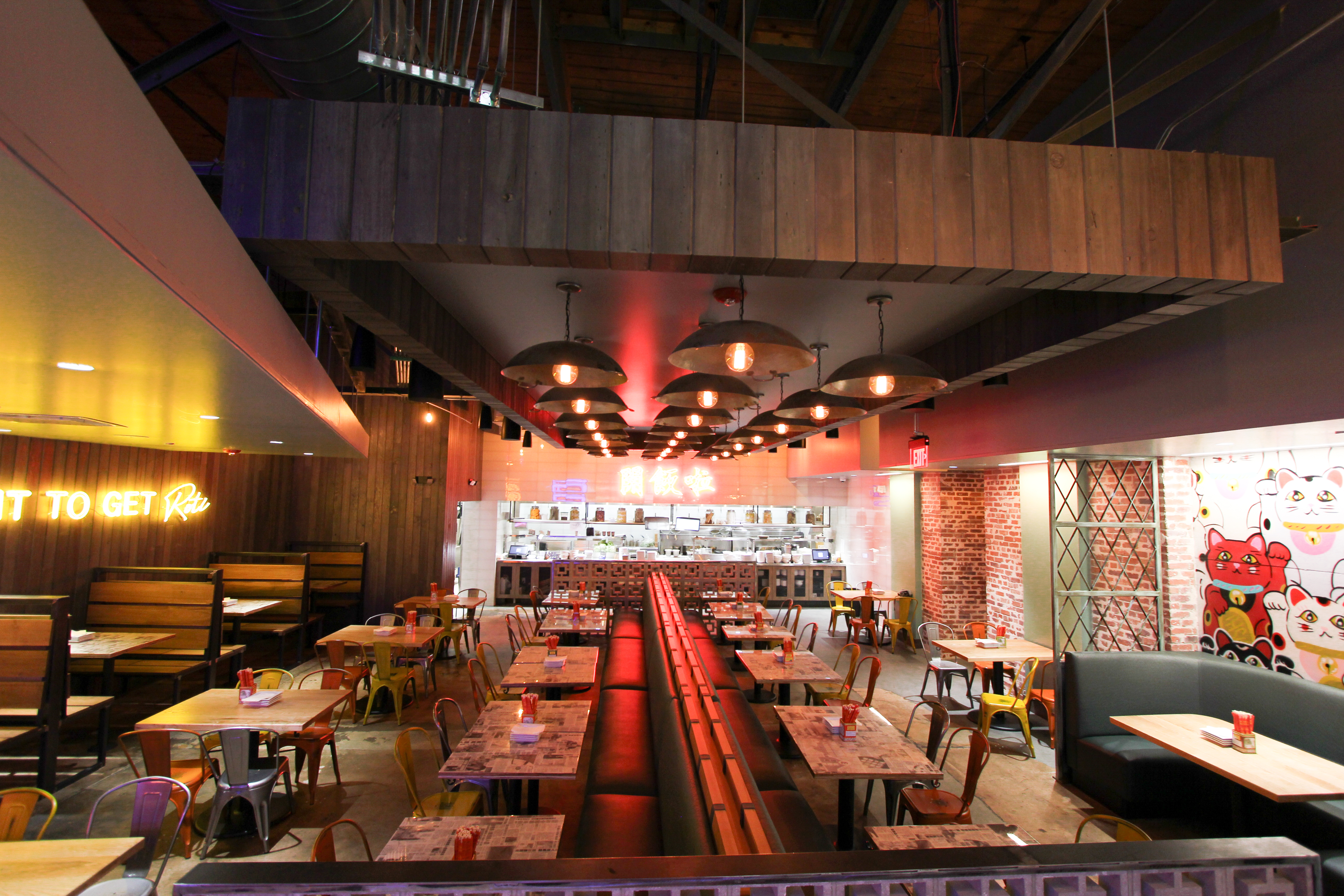 New Geographies, Proven Processes
As Balfour Beatty continues to deliver successful restaurant upfits and retrofits, clients can trust that the construction experience is repeatable. Multiple locations built for valued clients like Hawkers showcase our ability to replicate success in new geographies and effectively navigate location-specific challenges from local code requirements to labor, materials availability and more.
Whatever the location, Balfour Beatty establishes early alignment and effective communication strategies between the client, trade partners and vendors.
"We have to know the job better than anyone other than our client," Mike says. "We create reliable baseline schedules as early as possible that give Balfour Beatty and all partners a clear roadmap."
The clarity and reliability of our schedules enable timely and successful procurement of specialty kitchen equipment, including walk-in coolers, exhaust fans, vent hoods and cooking appliances.
Balfour Beatty also ensures each project meets the local health and safety code requirements, which code can differ greatly between jurisdictions and impact design and construction. Standards for kitchen light levels, dishwasher safety, insect-proofing and emergency readiness are prescribed at the municipal or county level, but early involvement and communication are still the keys to success.
"We start the conversation with local code officials as early as possible," Mike adds. "Most jurisdictions have clear instructions and literature for code standards and occupancy expectations, so we can maintain continuous communication, constant awareness of the process and readiness for the coming inspections."
Long-Term Partnerships
Each successive restaurant project builds on those before it. In any location, for repeat clients or standalone restaurants, our teams offer the complete Balfour Beatty advantage – extensive trade partner networks, alignment with the client's vision and proven expertise across the country.