Terry Marsh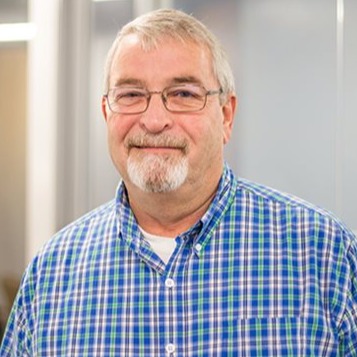 Relentless Ally
Putting the Quality in Quality Control
As someone who grew up working with his father and uncle on different build and repair jobs, Balfour Beatty Quality Assurance/Quality Control Director Terry Marsh always enjoyed working with his hands. Given his natural abilities, construction may have seemed an obvious career path, but in his earlier years, Terry was more interested in becoming a pilot.

Fresh out of high school and only a mere 17-years-old, Terry was eager to launch his career. As part of his job search, Terry took a leap and responded to an ad for an electrical superintendent position. The only catch was, at such a young age, he didn't have any of the necessary background for it. Little did Terry know at the time, taking that small leap would set him up for a successful 30-year career in the construction industry.

When asked why he applied to a role for which he didn't initially meet the qualifications, Terry explained that he wanted to learn the trade and simply needed the right opportunity to get his foot in the door. From there, the leap didn't seem so far off. "The owner apparently liked my drive and hired me immediately," recalls Terry.

Terry was a natural fit for the construction industry, easily surpassing most of his peers and quickly obtaining his master's electrician license. After Terry worked alongside Balfour Beatty on several projects, our team quickly recognized his potential and offered Terry a full-time position in 1991. It was a move that established the foundation for Terry's career as a highly esteemed quality control expert.

Working with teams in Nashville, Tennessee and later, Dallas, Terry quickly rose through the ranks and honed his craft in quality control. Praised by teammates for his attention to detail, drive for excellence and unrivaled knowledge of building systems, Terry has built a reputation for significantly improving the quality of every project he touches.

In his role, Terry provides critical recommendations to improve processes and mitigate risks or adverse trends that have the potential to impact the successful delivery of best-in-class projects. Through consistent and accurate execution of quality control procedures including reviewing installations and assisting teams in improving their execution of installations and systems, Terry is a consummate Relentless Ally for our people, partners and projects.

Providing the foundation of a successful and safe project, effective quality control programs can mitigate the likelihood of costly rework and associated schedule delays, promote greater collaboration between trade partners and resolve design challenges that arise as projects progress. Balfour Beatty's quality control plans are founded on delivering the owner's vision and goals and empowering trade partners to execute quality work in rewarding team environments.

"My goal is to help our project teams succeed through consistent and accurate execution of quality control procedures," says Terry. "Safety, quality and schedule are the foundation of a successful project. When I step on a project where it is evident that everyone cares about safety, it is always well-organized and clean. It is obvious at that point that everyone there is proud of what they do, they enjoy their work and they place a high degree of importance on getting things right."

Preferring to keep his boots on the ground, Terry makes it a priority to visit as many jobsites as he can. And although he might seem like more of a behind-the-scenes operator, over the last 30 years of working with our business, Terry has played an integral role in hundreds of projects across the Southeast and Texas.

Terry's influence far transcends the projects on which he has directly worked. When Balfour Beatty launched a new national Quality Control program in the early 2000s, Terry was a key contributor to the initiative. He also had a hand in our most recent development of an Integrated Quality Control plan launched in 2020, an innovative approach to quality control that incorporates project stakeholders' expectations into our jobsite specific plans. Before construction begins, project teams obtain input from trade partners, owners and designers to build a plan that holistically incorporates every concern and expectation. This process builds on itself in bitesize pieces throughout the project lifecycle instead of creating a partially complete quality control plan at the beginning when pressure is high to complete design and begin construction.

On a more personal level, Terry is known by his peers for being a natural teacher and mentor. Willing and able to make his technical expertise easily understandable for a wide range of skill levels, Terry's extensive knowledge and research often helps teams discover and implement innovative solutions before they become problems.

"What struck me most the very first time I met Terry, that still rings true today, is his ability to share knowledge with others without being overbearing while doing it," says Titus Rodriguez, senior project manager for Balfour Beatty. "In my 20 years with the company, Terry has never failed to provide assistance when called upon, which is an invaluable asset to his teammates."

That trust isn't just one-sided.

"Three decades is a long time to spend with one company," says Terry. "But the people and the relationships I've built over the last 30 years have truly been the best part about working at Balfour Beatty. I trust my teammates and our leadership to always make the right decisions based on what is best for the business to thrive."

After successfully celebrating 30 years with Balfour Beatty, it's hard to believe that Terry could have ever ended up in any career other than construction and quality control. But much like the pilot he once yearned to be, he has used his knowledge, training and natural skills to help our project teams soar to new heights at every opportunity.