Shane Connolly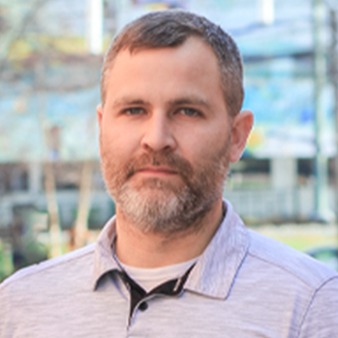 Relentless Ally
Going the Extra Mile
A champion for his clients and a leader to his team, Senior Project Manager Shane Connolly consistently delivers operational and service excellence with passion and drive no matter the situation.

To understand where Shane's passion originated, you need first rewind to a small town in western New York state. The son of a contractor, Shane's appreciation for quality construction began while watching his father execute work with a dedication to excellence. Following in the footsteps set before him, Shane donned his first hard hat at an early age and found that it was just the right fit.

Specializing in interiors construction, Shane works in Balfour Beatty's Charlotte, North Carolina Special Projects Group–a dedicated team of fast-track delivery specialists who execute projects of all scopes and sizes. From high-end interiors to hospitality establishments, Shane's portfolio of work is as diverse as they come, but one quality is a mainstay: service excellence.

Shane's most challenging project to date, the Ballantyne Theater Conversion, is one that has influenced the way he tackles projects to this day. The interior demolition of a 55,000-square-foot, five-theater movie plex into corporate office space involved unique scopes of work and endless opportunities for the team to leverage new tools such as harnessing the power of robotics to demolish the existing theater seating. Under Shane's leadership, the team eagerly leaned into new challenges and demonstrated how Balfour Beatty delivers industry-leading quality and value for our clients and partners.

Due to the novel challenges posed by the global COVID-19 pandemic, the Ballantyne Theater Conversion project required the team to identify and implement innovative solutions to material lead time delays and labor shortages.

To overcome these difficulties, Shane and his teammates remained agile, adapting to ever-changing market conditions and ultimately delivering the project on time, within budget, and most importantly, to the owner's delight.

The Ballantyne Theater's owner, Daniel Amodio, praised, "Our entire team was very satisfied with Balfour Beatty and the work they performed on our behalf at Ballantyne Village. Not only did they understand the complexities and execute our vision for the property, but they also effectively managed the project during a time of global uncertainty, adapting to the new environment without losing a step."

Shane is always willing to go the extra mile to ensure a successful project delivery – or 500! When his South Carolina lakefront restaurant project, Drift, experienced a large steel delay, which could have ultimately delayed its completion by several months, Shane quickly identified a solution that unexpectedly found him on the long road home.

Although a steel manufacturer in New York was able to supply the needed materials, due to widespread shipping delays, an in-person pick-up was the only option to keep the project on schedule. Nineteen hours after loading up his truck and trailer, Shane delivered the steel to the jobsite, demonstrating once again the difference between a good and great builder.

"In the professional world, it can be such a rarity to work under a leader like Shane who is so even-tempered, knowledgeable and who consistently guides with excellence by example," says Megan Pearson, senior project engineer, who works under Shane's direction with Balfour Beatty. "If Shane asks me to jump, I ask, 'How high?' without hesitation, because I know there is nothing he asks me to do for the team or clients that he wouldn't do himself."

From tackling unique scopes of work to overcoming material delays and shortages resulting from the COVID-19 pandemic, Shane continuously proves himself as a dedicated partner to his clients and mentor to a future of builders who are willing to go the extra mile.