Pete Caley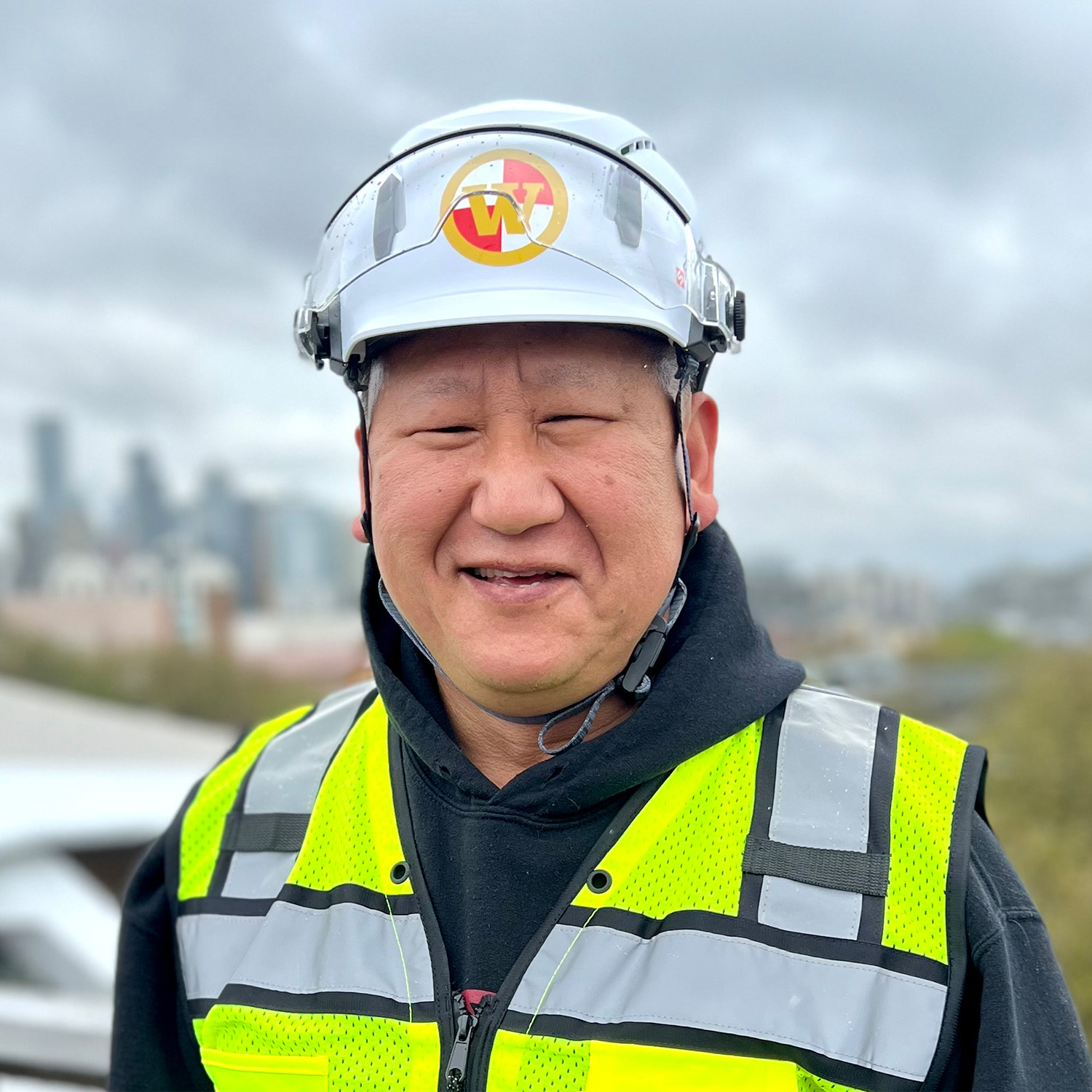 Relentless Ally
Leading with Purpose
Superintendent Pete Caley invests in the next generation of construction industry leaders

As a superintendent, Pete Caley recognizes the impact leadership has on nurturing the potential of others who are striving to make their mark in the construction industry, whether it's his teammates, partners or even his own son. Throughout his career, Pete has found that traits such as kindness, respect and patience are fundamental to effective leadership. By embodying these qualities, Pete inspires passion and motivation within others, propelling them to achieve their dreams.

Pete is a five-year company veteran with more than 25 years of experience in the construction industry. He leads the construction of complex tenant improvement projects for high-profile clients in the greater Seattle area.

During his time with HSW, Pete has delivered corporate interiors projects for tech industry clients that feature multiple floors of new or renovated spaces. This process often requires demolishing the floors to their structure and upfitting the space, from its bare concrete floor to pan decking at the ceiling, with new walls, HVAC systems, and mechanical, electrical and plumbing (MEP) facilities. There have even been instances in which Pete has led project teams to effectively renovate floors measuring, at its diagonal, up to a football field in length (or 100 yards).
Supportive Leadership That Empowers Others
As a superintendent focused on the successful delivery of unique tenant improvement projects, Pete knows he not only needs to be a strong leader but also a kind, supportive and selfless teammate committed to empowering others.

"We cannot excel in our professional development journeys without the kindness of others," Pete says. "As a leader, it is important to give the steering wheel to your teammates from time to time in addition to having the patience to show them effective methods to lead and complete a job. Whenever leaders facilitate these opportunities, they are inspiring others to thrive in their specific roles and potentially beyond."

Pete recalls an incredibly meaningful mentorship opportunity that arose while he was working on a robust tenant improvement project. When a foreperson expressed an interest in learning new project management skills, Pete gave that individual additional leadership responsibilities and then provided valuable mentorship on how to successfully execute and achieve those tasks. For Pete, it was rewarding to observe this individual broaden their skillset to effectively manage new jobsite dynamics and project management strategies.

In moments like these, Pete understands that leadership involves introducing teammates to new opportunities outside of their assigned roles and providing genuine support every step of the way. He states, "As a leader in this industry, I believe that my teammates' professional development will always start and stop with me."

Pete also recognizes that becoming a leader in this industry doesn't happen without the genuine, long-lasting support of a people-first company. He is honored to work with project teammates across HSW who have been with the business for well over a decade. It's not uncommon for construction workers to be employed in transitory roles, moving from one job to the next across multiple geographies. But, at HSW, Pete values its family-like environment which is a significant contributor to the longevity of his teammates' careers. A people-first culture is especially important to diverse teammates, because it values and respects the inclusion of different talents, perspectives and backgrounds.
Paving the Way for the Next Generation
Born in Seoul, Korea, Pete has noticed throughout his career that the prevalence of Asian Americans and Pacific Islanders (AAPI) on the jobsites where he's worked has been very limited. According to Zippia, a data-driven career resource for professionals, 2.7 percent of superintendents in the construction industry identify as Asian. As the industry has joined forces to ensure greater diversity among the workforce, Pete is exceptionally honored to pave a trail for the AAPI community and is especially proud to witness his youngest son follow in his footsteps as a construction professional.

When asked what advice he'd give to the next generation of leaders in the construction industry, Pete offers these words of wisdom: "First you need to have desire and drive for your own professional development and success. This means finding a company that aligns with your personal and professional values and making it your priority to connect with someone in the industry who is passionate about your career development. Once you've found this, pay it forward and help instill that same desire and drive in others looking to climb the ladder."

In a world where professional development is often dependent on the support and mentorship of influential leaders, Balfour Beatty is honored to have team members like Pete who are making conscious efforts to invest in the future of the construction industry and the talent that will drive it. His leadership and passion for others to excel not only supports the delivery of premier projects but also the relentless pursuit to serve as an ally in our industry, communities and beyond.