Nick Puckett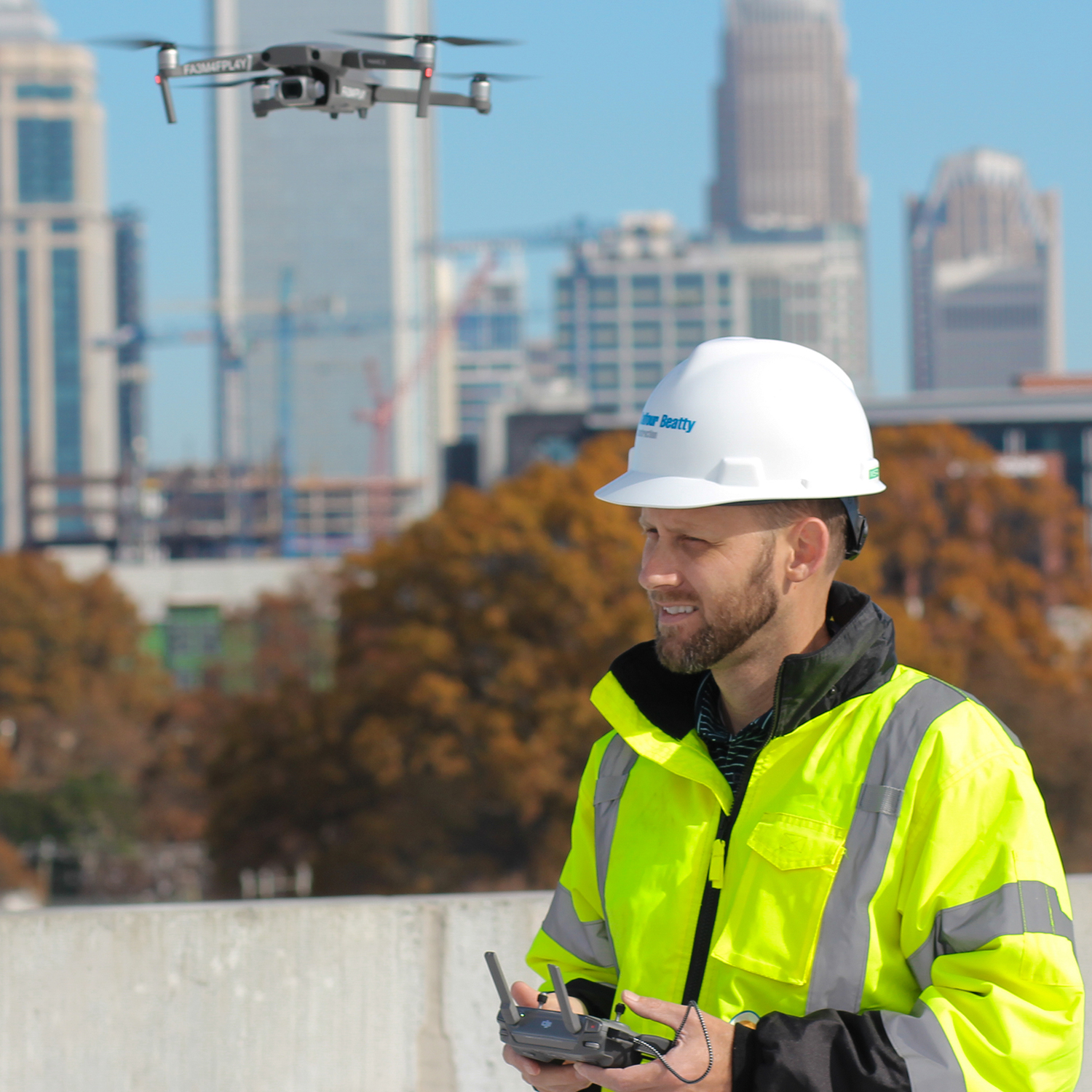 Relentless Ally
Paving the Way for Drone Innovation
It's been said that necessity is the mother of invention. For Senior Preconstruction Manager Nick Puckett, that proverb might be better phrased as curiosity is the cultivator of innovation.

Recognizing their vast applications to enhance project management, Balfour Beatty's Charlotte team invested in a drone. But they needed the right person to effectively lead a drone program. Although the technology was completely new to Nick, without hesitation he raised his hand and went to work—all outside his day-to-day preconstruction responsibilities.

After months of studying, Nick obtained his Remote Pilot Certificate through the Federal Aviation Administration (FAA) and began formulating a strategy for capturing, analyzing and leveraging drone data. Attending Autodesk University furthered his understanding of how web-based platforms like Site Scan could transform raw drone images into actionable intelligence for project teams.

Nick quickly discerned one of the drone's major advantages: due to the rapid speed with which drone software generates an incredibly precise point cloud model, it enables quality control to take place in near real-time in the field.

So how do drones produce such precise models? The drone operator establishes ground control points (GCPs), which are longitude and latitude coordinates spaced strategically throughout the jobsite. While in flight, the drone takes pictures of the site in a predetermined crosshatch pattern with significant overlap to capture sufficient angles for the creation of a 3D model. Site Scan allows users to import and overlay contract documents to check progress, validate inconsistencies with work in place as well as spot safety or logistical issues.

On The Jasper, a 12-story, mixed-use development in Charleston's historic district, the team needed to create as-builts of elevated concrete slabs over formwork before floors were poured. On similar projects, the Charlotte team used a laser scanner. This required a specially trained teammate to scan the space, ensuring every building element from the post tension cables to electrical conduit was captured.

Creating a 3D image from the laser scan takes approximately four to eight hours. Should a discovery such as a missing MEP plumbing sleeve be identified, this lag time was generally prohibitive of a team's ability to rapidly course correct in the field. By comparison, when Nick conducted the drone flight on The Jasper, he was able to generate a model in just two hours while on-site.

According to Nick, the choice of reality capture technology isn't an "either/or," as laser scanners have enhanced applications for interior spaces, especially on renovations where as-builts may be missing or inaccurate. It's the drone's rapid mapping ability that makes it a game changer for identifying issues before they adversely affect a project's schedule or budget.

"As we seek to embed lean solutions into every facet of our business, Nick's ability to provide a line of sight into projects before the first shovel hits dirt until the ribbon cutting is a true differentiator," says Bill Lorenzo, vice president of project solutions in Charlotte. "Nick's initiative speaks volumes about his passion for Balfour Beatty and the clients we serve."

On the UNC Charlotte Science Building project, a 130,000-square-foot instructional and research space, the team is only just beginning to tap into the benefits of drone technology. The project required extensive demolition, including a decommissioned masonry smoke stack. The University capped the smoke stack, but the team did not know what material the cap was comprised of, which was critical to predicting where it would fall.

Thanks to a recent drone flight, Nick was able to inform the team of the cap material in a matter of minutes, enabling the team to safely proceed with demolition work on an occupied campus. The Science Building team has also used models developed from drone flights to verify as-built underground utility locations.

"Weekly flyovers allow us to track our progress against the schedule," says John Schlobohm, senior project manager for the Science Building project. "It's also great for logistics planning on such a large site. Aerial shots help us see where work is taking place and equipment is staged to look ahead and plan for upcoming work."

On the South Charlotte STEAM K-8 project for Charlotte-Mecklenburg Schools, the drone flights Nick conducted allowed the team to quickly make an informed decision that could have otherwise resulted in schedule impacts. Once the team excavated to grade, they discovered a portion of unsuitable soil. Presented with the choice to either remediate that soil or haul in new dirt, they needed exact measurements to make the best cost decision. Using Site Scan, Nick was able to calculate the number of cubic yards in a matter of minutes compared to the traditional method of hiring a surveyor which could have taken days and stalled work.

Drone flights don't just provide accurate data. That data is also incredibly accessible to anyone with a WiFi connection. Kerrigan Sadler, project engineer on the South Charlotte STEAM K-8 project, was able to quickly learn Site Scan and works in collaboration with Nick to harness the drone's full capabilities. "It improves communication between all members of project teams with near real-time data shared through the cloud," she praises.

Founder of Wal-Mart Sam Walton once said, "Curiosity doesn't kill the cat; it kills the competition." To lead in today's highly competitive construction marketplace, contractors must live and breathe innovation.

That innovation begins on the front lines with teammates like Nick who not only believe there is a better way, but are also driven by a passion for continuous improvement. A learner and a leader, the sky's the limit for Nick as he leverages drones to help revolutionize the construction industry as we know it.