Melissa Thacker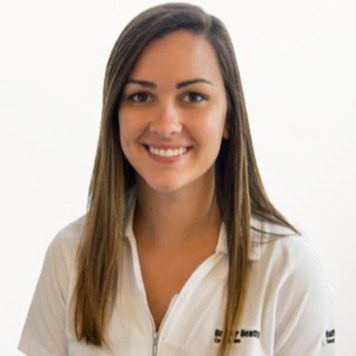 Relentless Ally
Melissa Thacker has always had a healthy curiosity for the world. As a kid she often took things apart just to see if she could put them back together. "One time I took apart my brother's gaming system," she chuckles, "he was not happy."

Melissa's first exposure to construction came through her mom, who owned a pool construction company. Even at a young age Melissa was involved in the business, helping to install and repair equipment - but she had other plans in mind for her own career path.

After serious consideration of law, journalism and advertising, Melissa was finally confident that she knew her career destiny: construction management. Any concerns about working in a male-dominated industry were brushed aside - with the benefit of her mom's wise experience and encouragement.

Melissa first came to our attention while competing in a student competition run by the Associated Builders and Contractors (ABC) that asks students to create Request for Proposals (RFPs) based on real-life projects.

Balfour Beatty was assigned to review Melissa's team's RFP on-site at the Loews Sapphire Falls Resort. According to the team, Melissa was a stand-out performer who immediately impressed with her aptitude and thought-provoking questions. It wasn't long before Melissa herself was part of the team, with two successful back-to-back summer internships.

During her internships with Balfour Beatty, Melissa contributed to three major projects – including retail, residential and hospitality/entertainment. She also had the opportunity to be mentored by some of Florida's most influential operations leaders, including Andrew Marshall, senior project manager; Neal Ernest, general superintendent; Ryan Walters, project engineer; and Brian Prebenda, vice president of operations.

"Neal and I often had lunch together, and we would talk about my future career and interests," recalls Melissa. "It was always clear that the team wanted me to do whatever was best for me, and we would talk a lot about what that could be."

In the end, Melissa determined that the personal investment demonstrated by her leaders meant Balfour Beatty was the right company for her. When an opportunity came up for a full-time time position she accepted immediately.

"No company gave me the same feeling," says Melissa. "Although it's one of the largest construction companies in the nation, it feels more like a family - something I feel is hard to find."

Now a proud graduate of the University of Florida and a full-time Balfour Beatty teammate, Melissa is encouraging of anyone who is considering an internship. "From hands-on field experiences to teambuilding activities with executive leadership, the internship experience here is second-to-none. I don't think I would have developed the relationships that I have in this company without having gone through the internship program, "says Melissa.

As a project engineer, Melissa can now appreciate how her interests have evolved from takings things apart and rebuilding them - to building huge structures from scratch with a team of great leaders and friends around her.

It seems the same curiosity that fueled Melissa as a child is still alive and well in this talented young professional who is only just beginning to make her mark.