Megan Cook-Eichelberger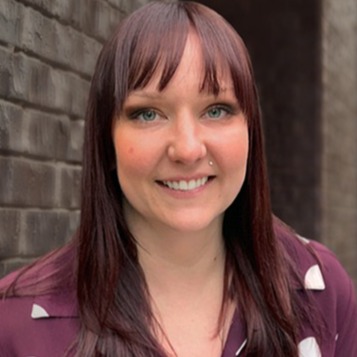 Relentless Ally
Foundations of Trust
Whether she is anticipating the needs of trade partners, advocating for marginalized communities or lending a guiding hand to new teammates, Megan Cook-Eichelberger is building relationships to last.

At Balfour Beatty, our people-first culture is engrained in everything we do. From our decision-making to the ways in which we collaborate, we believe that the relationships we form with our clients, industry partners and fellow team members are paramount to everyone's success. For Megan Cook-Eichelberger, a project manager in Portland, Oregon, relationship building is the key to consistently meeting project goals, producing meaningful results and ensuring that everyone has a seat at the table.

Megan began her career in general contracting eight years ago as a traveling field engineer, but her experience in the industry goes back much further than that. Her father owned a drywall finishing business, so Megan was introduced to jobsite environments at a young age.

While working at her father's business after high school, Megan not only developed a strong work ethic but also learned the importance of creating a workplace culture grounded in the values of respect and collaboration. "It's not just the people on your own team," she says. "Everyone you interact with, from your design team to your clients to your trade partners, plays such an important role in how you show up to work every day."

Since joining Howard S. Wright (HSW), a Balfour Beatty company, in 2019, Megan has found that building strong relationships allows her to collaborate with her teammates and partners more effectively and navigate conflicts when they inevitably arise. When teams have already established a foundation of trust, she maintains, they feel empowered to bring difficult topics to the table and identify the best solutions for the team and project.
Advocating for Trade Partners
Through these experiences, Megan has developed a deeply personal understanding of the challenges trade partners experience and has become a staunch advocate and ally for their growth and development. She doesn't consider a project successful unless everyone involved—the project team, clients and trade partners—is satisfied with the results.

Megan is also committed to championing small and local businesses. Through collaborating with minority, women and emerging small businesses (MWESB), she and her teammates help remove barriers to success. The Block 216 project, on which Megan serves as project manager, has presented a "once-in-a-lifetime" opportunity for some local MWESB businesses.

Projects of this size are rare in Portland; the building will total 1.1 million square-feet and construction is slated to span more than four years. Many small and emerging businesses may not have the experience or personnel to successfully execute scopes of this magnitude or complexity. Megan and the team implemented a right-size system to simultaneously meet our diversity, equity and inclusion goals along with the client's: rather than issuing contracts to a single subcontractor for an entire scope package, the project team asks the partners what scope of work they can take on and allocates portions of the project accordingly. By applying this approach, the Block 216 project team is also stimulating the local economy by providing more jobs to local residents.
Cultivating Inclusion
In addition to mentoring small businesses, Megan gives back to the women of Balfour Beatty and the greater Portland community. She currently leads her local chapter of the company's Connecting Women employee affinity group, a role that has allowed her to partner with organizations such as Oregon Tradeswomen and Dress for Success that empower women in the construction industry and beyond.

Throughout her years in the industry, Megan has witnessed changing cultural dynamics that have resulted in a positive trend toward acceptance and inclusion. She considers herself fortunate that during her entire tenure with HSW, she's always been able to bring her authentic self to the workplace. Megan prioritizes diversity, equity and inclusion (DE&I) initiatives in hopes that everyone is afforded the same opportunity.

"I've learned so much just by showing up," she maintains. "By listening first, you start to understand what a community needs and how to implement change in a way that is equitable and sustainable over the long-term."
Developing Within
In addition to building a stronger, more inclusive construction industry, Megan seeks out opportunities to nurture the growth and development of her own teammates. She shares her experiences and lessons she's learned throughout her career but stresses the importance of innovation.

"Every project has milestones to meet, but I try to remind the team that there are lots of ways to deliver for our client," Megan asserts. "We always want to look for new solutions and ways to achieve our goals more with greater efficiency and value. It's important to me that my teammates know that we encourage creative problem-solving."

Megan's extensive industry experience helps her mentor fellow teammates, but perhaps her greatest strength is her ability to put herself in others' shoes. Whether she is anticipating the needs of trade partners, advocating for marginalized communities or lending a guiding hand to new teammates, Megan's empathy makes her a great champion for others and allows her to lay a strong foundation of trust on which she is building relationships to last.