Kofi Afriyie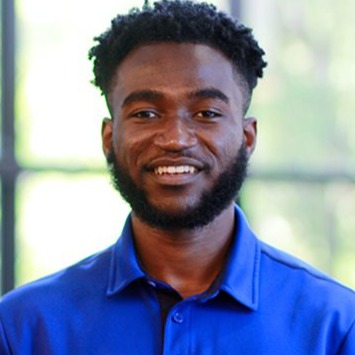 Relentless Ally
Senior Project Engineer promotes minority recruitment and mentorship, critical conversations around racial equity and unity among diverse teammates in the construction industry.

If you ask Kofi Afriyie, Balfour Beatty senior project engineer in the Mid-Atlantic, what the best times of his life were so far, he will unhesitatingly respond that being a student at Morgan State University were the best four years of his life.

At one of the largest historically Black colleges and universities (HBCU) in Maryland, Kofi was a civil and structural engineering student with a thirst for construction industry knowledge and a desire to support and prepare minority students' transition into an evolving and increasingly diverse workforce.

Morgan State gave Kofi the opportunity to thrive in a supportive environment and to further immerse himself in Black history and culture. During these four years, he learned his alma mater's rich legacy of moving the needle on civil rights for African Americans, which heightened his passion for advocating on behalf of young, Black, engineers entering the construction industry.

Kofi strived to make an influential impact outside of the classroom for his peers at Morgan State. As a University Innovation Fellow, Kofi formed and led a team who spearheaded the development of an ideation and makerspace at Morgan State's School of Engineering. This included securing funding from the institution, finding an underutilized shell space on campus and transforming it into a safe and inclusive place for students to collaborate and innovate.

Kofi was instrumental in establishing Morgan State as the only HBCU to have a Chi Epsilon chapter of the Civil Engineering Honor Society. As President of Chi Epsilon's 141st chapter, he made it his goal to help each and every member obtain an internship to help grow their professional skills and increase their chances of securing a job after college.

Kofi remains engaged with his alma mater to continue vital work in transitioning African American students into the professional workforce. Through Balfour Beatty's partnership with Morgan State, Kofi serves on the advisory board of the college's Construction Management Program and is a member of the company's Mid-Atlantic recruiting committee where he orchestrates visits to the college to recruit new and diverse talent for the company. As a former Balfour Beatty intern Kofi also makes himself available to the young recruits on the job by mentoring and coaching them to success.

But Kofi isn't stopping there.

When the unjustified killing of George Floyd and protests against police brutality triggered critical conversations nationwide, Kofi joined African American employees across the country to share and deepen the company's understanding of the Black experience within Balfour Beatty and the wider industry. Taking a leading role in Balfour Beatty' newly formed Network of Black Leaders and Executives (NOBLE) affinity group, Kofi moderated an employee panel at Balfour Beatty's Inaugural Together Allies Summit that discussed a comprehensive plan for greater equity and inclusion for Black employees.

From explaining unconscious racial biases and social injustices to discussing the importance of recruiting and mentoring the African American workforce, Kofi and panelists introduced crucial conversations that opened eyes for employees across the business. It was in this panel that Kofi presented an overarching theme that rang true throughout the entire Together Allies Summit – being comfortable being uncomfortable.

Kofi is determined to be a force for lasting, beneficial change that begins today. In his own words: "The construction industry must work to normalize conversations around diversity, equity and inclusion, and integrate individuals from diverse background into our labor force to bring real change throughout workplaces across the nation. We know when we accept the different backgrounds of others, actively listen and work cohesively to approach and solve problems in safe and inclusive environments, we can provide a unique and authentic value to the projects we are entrusted to build."

He also praises the work of vested Black team members and the NOBLE affinity group for collectively leading the change and giving employees a platform to address systematic and social injustices impacting minorities in the workplace.

From his days at Morgan State to his career as a project engineer, Kofi is making influential strides and demonstrating why representation matters at all levels in business. As he gives recognition to his experience at Morgan State as some of the best years of his life, Balfour Beatty is equally honored to have this Relentless Ally helping to drive change in the construction industry.