Eric Garcia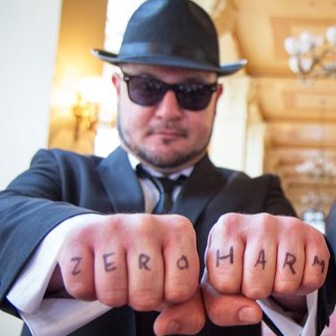 Relentless Ally
There is Nothing Shady about this Award Winner
"It's dark and we're wearing sunglasses," said senior safety health and environmental manager Eric Garcia as he strutted across the stage impersonating Elwood Blues during the safety presentation at the Florida division's annual managers' meeting. To his surprise he took the stage again to accept the second annual Florida Division Relentless Ally Award in front of over a 100 peers who gave him a standing ovation.

"It was a tremendous honor to receive the award. It caught me completely by surprise as I did not even know I had been nominated," said Eric. "I feel grateful to have been selected from the group of candidates. The fact that a Loss Prevention manager was selected for this award speaks volumes to this company's commitment to and support of Zero Harm!"

Eric has made a tremendous positive impact at Balfour Beatty in just three years with the company. He is regarded as an exemplary professional who exhibits a client focus, sound work ethic, solutions oriented thinking, leadership by example, superior technical proficiency and consistent follow through.

The Relentless Ally Award is presented to the individual who most embodies one or more pillars of the company's creed – Zero Harm, Zero Waste, Client Advocacy and Employee Inspiration. Thereby, this individual truly lives the company's Purpose by definition: "To be a Relentless Ally for the success of each and every dream that we are entrusted to build." The nomination for Garcia highlighted accomplishments that touched on, not just one, but all four of Balfour Beatty's creed pillars.

"Eric undoubtedly represents each of the four pillars at the highest level and is a proven Relentless Ally for our clients, business partners and his teammates," said senior vice president John Harris. "This is in addition to leading our Zero Harm efforts on some of the most complicated projects in our Florida business."

On one such project, Eric led the charge for Zero Harm that resulted in over one million man hours without a lost time incident. He's able to excel above industry standards because he takes his role personally and creates a bond of trust with the workforce by instilling his belief of working for them and in their best interests.

Apparently, Eric's favorite number is zero, and he likes to maximize it whenever possible. In addition to Zero Harm, he's gaining on Zero Waste too. Over $15,000 was saved at just one jobsite by purchasing an alternate fence material that's durable enough to be reused. Also, with the use of technology he was able to capitalize on time, cost and natural resources by implementing an electronic database and subcontractor badge system. The system saved time by allowing for on-the-spot identification. It also saved enough paper to equal 26 trees and over $1,700 on just one project.

As evidence of his Client Advocacy, an owner that is known literally throughout the world recognized Eric's dedication to the safety of owner staff members and guests with the owner's highest level safety award given to an external partner.

Eric's approach culminates with Employee Inspiration. He works closely with his team to understand the needs of the project in order to implement a timely and practical strategy for operations to run without negative impact or delay. "This is a delicate balance that is hard to perfect, and Eric consistently performs exceptionally well in this arena," said John. "He has earned the respect of his peers as a go-to leader well beyond his Zero Harm responsibilities."

To Eric, it seemed out of the blue when his named was called as the Relentless Ally Award winner, but his peers clearly agreed. And the applause must have been music to his ears.