April Medlin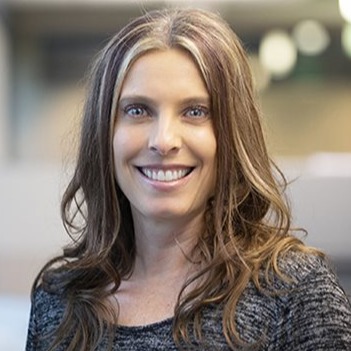 Relentless Ally
Paving the Road for Future Generations
When April Medlin was young, she dreamt of helping people by becoming a nurse. Little did she know, instead of through nursing, she would impact the lives of hundreds of children through her role in the construction industry.

April's unlikely journey began when she graduated with a degree in sociology. At the time, April had already shifted gears from nursing to setting her sights on educating and inspiring future generations by earning her teaching credentials.

During her time as a student teacher at a local middle school, April was touched by a moment she experienced with a young girl. The school had taken a group of children on a field trip to the nearby community college, where they displayed a plethora of unique career options.

When the class was leaving, April began a conversation with a young girl, asking questions aimed at what she wanted her future to hold. "My mom works at Taco Bell and puts food on the table every night for me and my siblings. I think that is a good job. I want to work at Taco Bell," the young girl said in response. April pondered the thought for a moment. She had never considered the prospect of children not wanting to pursue a postsecondary education.

Curious, April asked the student if she wanted to attend college and received a firm "no" in response. April continued pressing the topic, asking questions about what the young girl was interested in and whether she had considered pursuing her passions in the beauty industry. The young girl began to light up as April explained the potential career paths within that industry. This is the moment that ignited a fire within April to continue guiding and supporting children who may not be exposed to the opportunities available to them.

As fate would have it, April began working at Balfour Beatty over 12 years ago when she learned more about a field she had never previously considered. Many misconceptions about the construction industry exist, including that it is labor intensive with visualizations of hammering nails, setting framework and pouring concrete. But, as April discovered, there are many avenues to pursue a career in this field.

Today, as a project accountant manager for Balfour Beatty in California, April oversees a vast array of vital business activities. Her responsibilities range from overseeing accounting processes to developing a team of adept accountants. April is even helping drive the implementation of a new software to help streamline accounting practices nationally.

April now takes every opportunity to help younger generations explore new paths and shape their futures. Volunteering at Abraxas High School in Poway, CA, April relates to the students by sharing the twists and turns of her own career. She helps expose students to apprenticeship programs, networking events and even internships that can be taken advantage of while they are in high school.

"[As a builder focused on education facilities] We build things that matter, that give me pride and impact students every day," states April.

April discovered this volunteer opportunity through the Women's Construction Coalition's Julie Morgan Society. This program was founded with the goal of inspiring younger generations to pursue the Architecture, Engineering and Construction (AEC) industries by providing them with related mentorships and scholarships. The program presents high schoolers with options for achieving education through venues such as a traditional four-year education or apprenticeship programs. They also provide networking events where students can meet and connect with industry professionals.

A trusted advisor, April reviews and recommends training materials for teachers to utilize in their classrooms. Leveraging her experience as a teacher, she also works with the students, guiding them through the Julie Morgan Society program and assisting them in filling out applications for scholarships.

Having found her own door of opportunity, April shares her story of working her way through a variety of careers, eventually rising through the ranks at Balfour Beatty where she began as an accounts payable clerk. Even though April isn't working in a field related to her degree, she inspires those around her and is shaping future generations through her outreach efforts.