Annie Hughes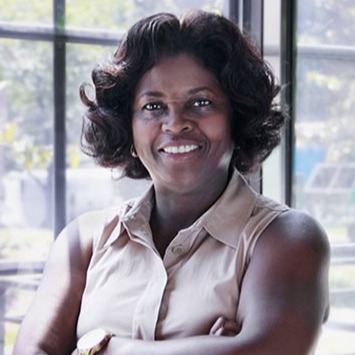 Relentless Ally
An Industry Pioneer
To this day, people sometimes express surprise when they find out Preconstruction Director Annie Hughes works in construction. The surprise usually gives way to the assumption that she performs an administrative role. Little do they know, this couldn't be further from the truth.

Annie isn't one to boast about her significant accomplishments, but - as anyone who knows her will tell you - she should be. With over 36 years of experience, Annie is a well-known industry pioneer who continues to inspire and mentor others.

Before her career had even begun, Annie was forging a path that would challenge the status quo and lead the way for other young women. Blessed with a natural ability in math and science, Annie was encouraged by her brother-in-law, Eluster Fields (a civil engineer) to consider a career in engineering. After asking herself "why not?" she went on to become the second African American female to graduate from the prestigious University of Cincinnati's civil engineering program – a success that she considers as one of her proudest achievements. Note: if you visit the school today you will still see Annie's graduation picture from 1982 gracing the hall.

Annie's initial interest was in engineering but she quickly fell in love with construction after realizing that sitting in an office staring at plans all day was not for her. Her first job out of college took her through a rigorous training program that allowed her to touch every aspect of the construction process. This experience served as the basis of her well-rounded career that began in the cost department, progressed to the field and eventually led to her main specialization: preconstruction.

Today, Annie is a trusted expert responsible for our Charlotte team's estimating and preconstruction efforts. She is described by her teammates as a natural leader who's never afraid to take on a challenge or speak her mind. These traits have served her well over the years, but Annie admits they have sometimes been tested, particularly in her first years after college: "starting out in a male-dominated industry, nobody was ever mean to me, but there was a sense that they were questioning why I was there."

For Annie, the answer was obvious, she was there to learn and build iconic work, just like everybody else. Annie stayed true to pursuing these goals by seeking lessons to be learned from everyone she worked with. Ultimately, her willingness to learn and ask questions allowed her to build solid connections with her teammates and an enviable bank of knowledge that she in turn, continues to share with her teammates today.

Annie now commands significant industry respect, but she is conscious that for many women, the construction industry can still be a challenging environment. From her own experience, she's seen that forging a strong support network is key, so she makes herself available to other women as a guiding influence to answer questions and share advice when needed.

Annie's readiness to help and encourage other women is also evident in her personal life. In her own family, her niece, Candance Campbell was inspired to pursue a career in engineering, just like her aunt. And, in addition to her fast-paced career and commitment to her beloved family, she finds time to support a women's ministry and volunteer for Girl Talk, a local non-profit initiative that empowers teenage girls.

The advice Annie offers to the women and young girls in her life applies to anyone who's game to follow their dreams and shatter assumptions: "you've got to be strong enough to know what you're talking about and find people who will back you up." But, she warns: "none of that will help if you haven't done your homework first."

Those who know or have worked with Annie will know that this isn't just casual advice, it's a lesson she took the liberty of discovering firsthand and continues to demonstrate to this day. And if you consider the heights Annie has scaled – you'll appreciate just how valuable a lesson it is.

A woman's decision to pursue a career in construction may still come as a surprise to some. But as more and more women follow Annie's lead and find their voice we will reach the stage where there's no more surprises or false assumptions. Just iconic work by brilliant builders like Annie.