Amy Kennedy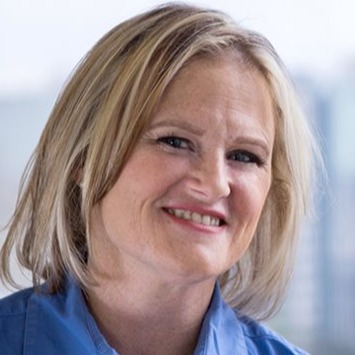 Relentless Ally
Leveling the Field for Everyone
Amy Kennedy didn't set out to be a role model … or a construction worker. Unlike a lot of her peers, Amy had never been exposed to construction and hadn't considered it as a career until it was time for college.

To speak with the passionate project executive today, it's hard to believe there was a time when Amy wasn't sure what she wanted to do. All she knew was what she didn't want to do – sit behind a desk doing the same thing every day.

Amy's mom also recognized her daughter needed a more hands-on career. At her mom's suggestion, Amy spent a day shadowing a family friend who owned a construction business, just to see if it sparked any interest.

That one day's experience was all it took to ignite a passion that's been burning ever since. But as Amy recalls, it did take some explaining at the time. "I'd never talked about construction so when I applied to study at Clemson University my friends were really surprised. It took them a while to understand what construction management was and why I would choose a program that had 8am classes."

There were only a handful of other women in Amy's classes, but she never saw it as an issue or cause for concern. Amy had discovered the career path for her, and she was determined to see it through – even if it meant she had to sacrifice the college tradition of sleeping in.

The gender imbalance in Amy's college program was a good indicator for the conditions she would experience in the field. When she entered the workforce as a young project engineer for Balfour Beatty, Amy was one of very few women working in the field.

This meant there weren't any female leaders for Amy to look up to as she rose through the ranks, but she had something just as powerful: a will to achieve and male leaders who believed in the power of inclusion.

As Amy explains: "I was determined to be the best I could be, and I always had really strong male mentors who made sure I was learning, improving and being respected at all times. If they heard any inappropriate comments or behaviors, they'd call it out immediately, so I never felt alone. I was completely supported."

The level of support and inclusion demonstrated by her mentors is a big part of why she is proud to have stayed with Balfour Beatty for almost 20 years and counting. It's also a major factor that helped shape her into the leader she is today. That is, a widely-respected, inclusive leader who is passionate in ensuring everyone experiences the same success she has enjoyed throughout her career with Balfour Beatty.

There's no doubt that Amy has become a role model for women in construction, but true to her inclusive form, she sees herself as a role model for anyone who needs or wants a supporter – male or female, older or younger.

As Amy explains: "I'm not exclusive about who I take under my wing. More women are joining the field these days and I'll always make myself available to them as a mentor, but I think as leaders we need to be equally supportive of anyone who needs or wants some support. We're all professionals and we all have something to learn and share. Men can learn from women and vice versa. Things like gender and age don't matter; it's your knowledge and experience that counts."

Amy's willingness to help others learn and grow is well-documented – and it's not just limited to her project teammates, either. Amy recently shared an online video outlining her best practices for working with gypcrete (check it out here). It's just one example of how the self-described "sponge for learning" will go out of her way to ensure everyone can benefit from the same expertise that she has.

For Amy, every day is another opportunity – a chance to learn, a chance to grow and a chance to lift someone else up. In her mind this is all just part of the job that she loves, but for those of us who have been inspired or mentored by Amy, she's doing much more than that.

Through her work and her example, Amy is a role model leveling the field, for everyone.