Alex Ramos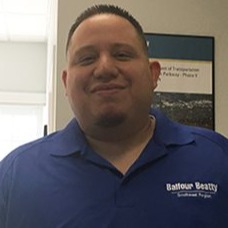 Relentless Ally
After joining Balfour Beatty in April of this year, Alex Ramos quickly proved himself to be an invaluable champion for the company's Zero Harm program. In his current role as a Safety, Environmental and Health Manager for the civils operations in the southeast, Alex works closely with the teams delivering highway, bridge and water projects to ensure every operation is executed safely. With his involvement teams prioritize preventing safety incidents and learn from previous incidents and near-misses.

Alex's job takes him to project sites like the 16-mile Maysville Bypass project in Maysville, NC, the Surf City Bridge Replacement, which involves the construction of a new bridge over the Intracoastal Waterway to Topsail Island and the Lake Kilby Water Treatment Facility in Suffolk, VA. No matter which project he's at on any given day, Alex is there with his sleeves rolled up, offering the safety management guidance and on-going training for life-saving safety measures for our teammates.

His commitment to Zero Harm is evident in everything he does – whether he's talking about new developments in the industry or setting up OSHA training classes for employees. But in his pursuit to stay abreast of the latest developments in construction safety, Alex pursued a Construction in Health and Safety Technician (CHST) certification through the Board of Certified Safety Professionals (BCSP).

To start, Alex had to apply for eligibility through the BCSP by providing his education information, demonstrating that he had the required three years of experience with at least 35% of his primary job duties involving safety, health and the environmental practice in the construction industry. When he was approved as a candidate, Alex sat for the CHST exam and successfully earned the prestigious certification.

Since clients often require that a CHST certified manager be included in project teams, Alex's certification not only bring more expertise to the civils business, but it makes the entire team even more marketable.

"Alex has been a great addition to the team in the Southeast," said Eric Yates, Regional Safety, Environmental and Health Manager. "Ongoing safety training is crucial to our goal of Zero Harm, and his initiative in pursuing – and achieving – the CHST certification demonstrates his continued commitment to improving both himself and our overall safety performance."

By completing additional training, Alex will be able to maintain his CHST throughout his career in construction safety.

Congratulations to Alex Ramos, CHST on his professional achievement.