Aislinn Nagy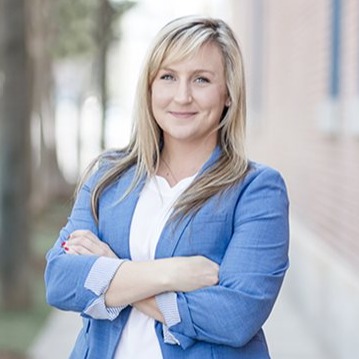 Relentless Ally
Aiming High
When Aislinn Nagy changed her major from city planning to building construction at Virginia Tech, she didn't think twice about working in a male-dominated industry. It wasn't just that construction was becoming more inclusive when Aislinn graduated in 2011. As decisive as she is driven, once Aislinn establishes a goal, she simply refuses to accept any barriers to achieving it.

Before donning her cap and gown, the Charlotte, NC native was already building an enviable resume. During an internship with RT Dooley Construction, a family-owned general contractor Balfour Beatty acquired in 2009, Aislinn worked on one of the most signature buildings punctuating her hometown skyline, the Duke Energy Center. During another internship, Aislinn made her mark on the nation's capital, helping renovate the Pentagon.

It came as little surprise to those who knew Aislinn that she graduated with the honor of "Most Exemplary Senior" in her building construction department. But Aislinn was only just beginning to crack the glass ceiling. After graduation, Aislinn joined another national general contractor. Her first project, a federal prison in West Virginia, was hardly a softball for the 22-year-old. Aislinn relocated to an unfamiliar state and was the only woman out of a nearly 30-member project team. In what would become a recurring theme of Aislinn's career, where others see obstacles, she seizes opportunities. Aislinn describes her relationship with the project's superintendent, a 6'4," Paul Bunyan-esque, tower crane of a man, "He toughened me up, and I softened him."

Though Aislinn enjoyed her tenure in the Mid-Atlantic, she never forgot her roots and joined Balfour Beatty's Charlotte team in 2015. "It felt like coming home," she recalls. Aislinn's first project with the company, a challenging multifamily housing development, would have tested even the most seasoned construction professional. It was a baptism of fire of sorts for Aislinn, then a 27-year-old assistant project manager. But Aislinn wasn't second-in-command on-site for long. When the project manager departed the company, senior leadership entrusted the job to Aislinn, confident in her ability to deliver. Predictably, Aislinn did not disappoint.

"You have to find ways to get a job done under pressure," maintains Aislinn. "Often, you don't have the liberty of taking three days to make a decision. You have to make the best call for your client and trade partners and be willing to stand behind it." As Aislinn looks back, she realizes these lessons are equally applicable to projects that run smoothly or those that encounter any number of the industry's common obstacles.

Today, Aislinn is a project manager with nearly three million square feet of work credited to her name. She was recently named to Charlotte Agenda's 30 under 30 Class of 2018. A relentlessly positive, calm under pressure, consummate team player, Aislinn's glass is always half full. She's spent the last several years managing a $14 million renovation to the Reynolds American, Inc. headquarters in Winston-Salem, N.C., and in March 2019, transitioned to oversee a $30 million K-8 STEAM facility for Charlotte-Mecklenburg Schools.

Despite a demanding career that requires many early morning job site visits and late-night emails, Aislinn dedicates time to serving others through initiatives like the ACE Mentor Program. In December 2018, she led a project like no other—building a footbridge over a canyon in Bolivia's Cochabamba River Valley. In partnership with Bridges to Prosperity, Balfour Beatty assembled a diverse team of construction experts to provide Bolivians a safer and faster route to access food, healthcare and other basic necessities.

"Leadership is hard to teach and a lot has to do with experiences and how a person can take those experiences and translate them into success," says Jeff Sandeen, vice president and business unit leader in Charlotte. "I have witnessed Aislinn become a humble yet driven leader, and that is reflected in her daily operations as well as her community involvement."

In many ways, Aislinn is fulfilling her destiny. Her father, who works for CBRE, often took his children around Charlotte, pointing out buildings he'd helped bring to life. Today, Aislinn can take the same personal pride in the Queen City, knowing she's building foundations in more ways than one.

"I never want to be so comfortable that I'm not challenging myself. If I'm not aiming for something, then I'm settling," affirms Aislinn with a wisdom that surpasses her age.

Ability, ambition, adventure. Aislinn Nagy is proving the future of construction belongs to anyone who devotes themselves to building it.