Luis Torres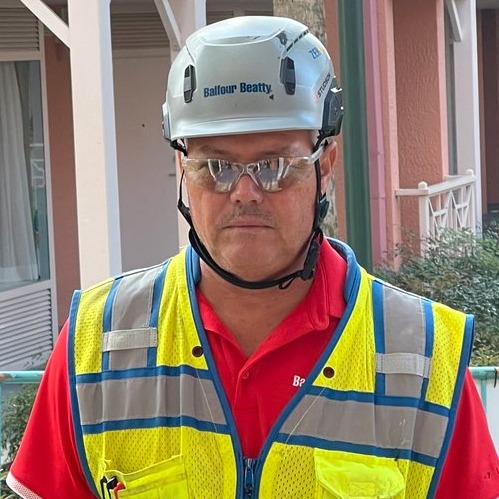 Relentless Ally
The Responsibility of Protecting Your Team
Every workplace has its unique cast of characters, mainstays that feel as much a part of the company's culture and structure as the company leadership. Not every workplace, however, can say their company veterans are in the business of saving lives every day. That's exactly what Balfour Beatty safety professionals like Luis Torres do on jobsites across the country, combining expertise, pride in their work and relationship building to keep workers safe.
Industry-Leading Safety Leadership
Luis is a jobsite safety carpenter, but he's not just any carpenter. His tenure with Balfour Beatty spans nearly three decades, and in that time, he's carefully honed his skills as a carpenter and his knack for developing innovative safety solutions. He's a known quantity on every job – someone so trusted that his teammates have affectionally given him the title "Safety Luis."
A well-earned title it is. Luis's handiwork caught the attention of a Balfour Beatty safety leader, on a recent visit to the Alfond Inn project in Winter Park, Florida. On the jobsite, a sprawling 75,000-square-foot addition to the boutique hotel, Luis had constructed a set of temporary elevator guardrails.
The quality of the installation was evident at first sight. Each had clearly been constructed by a professional who deeply cared about their work and the impact it would have on worker safety.
In this case, the elevator enclosure went above and beyond the standards mandated by OSHA, Balfour Beatty and our construction elevator trade partner in Florida. While providing essential safety protections, it also featured removable sections and stowable netting, allowing different parts of the enclosure to be temporarily moved to suit different loads over the course of the job. On top of that, the entire guardrail structure was both modular and removable, so Luis's hard work can be re-used on a future elevator thereby creating greater workflow efficiencies and reducing waste.
Luis's responsibilities as a construction safety carpenter and the responsibilities of his peers on other jobsites don't end with elevator guardrails and enclosures, of course. Safety carpenters build walkways, guardrails, work platforms, scaffolding and much more, all essential components of making jobsites safer for Balfour Beatty teammates, trade partners and any visitors. Alongside personal protective equipment (PPE) and established safety rules and standards, their work is on the frontlines of construction safety.
Tenured and Trusted
In his decades on construction sites, "Safety Luis" has established himself as someone our workers and trade partners can trust, as evidenced by his tenure, his demand on jobsites and his role which has grown to encompass mentoring Balfour Beatty safety carpenters across the country.
"He's easily worked on at least a hundred different projects over the years, and his work is truly first-class," says Jonathan Pearch, project executive. "When Luis is on the job, we know he's going to anticipate safety needs others may not see, often going above and beyond to provide the safest possible working environment for everyone on the site. He always has the 'what' covered and can build anything you ask him to, but when given a task, he thinks about the 'why' and finds creative, safe solutions to meet the need."
It's only fitting that Luis has also taken his safety sixth sense outside his usual southeast region, guiding and teaching safety carpenters as far afield as jobsites in Texas. On every job, Luis truly cares about the safety of his teammates – he knows what he's there to do and he takes pride in executing that job with excellence.
Across a career so vast, in terms of both projects and years worked, construction safety standards have naturally changed immensely and for the better, but that accumulation of knowledge is one of Luis's greatest assets.
"He may have been able to do his job in sneakers and shorts back in the day," Jonathan jokes, "but there's no doubt the industry absolutely has changed. Luis has adapted to those changes and, in many ways, pushed us even further toward safer jobsites."
The vital expertise of Luis and Balfour Beatty safety carpenters everywhere exemplifies Balfour Beatty's commitment to leading the construction industry in safety.