Dennis Kuykendall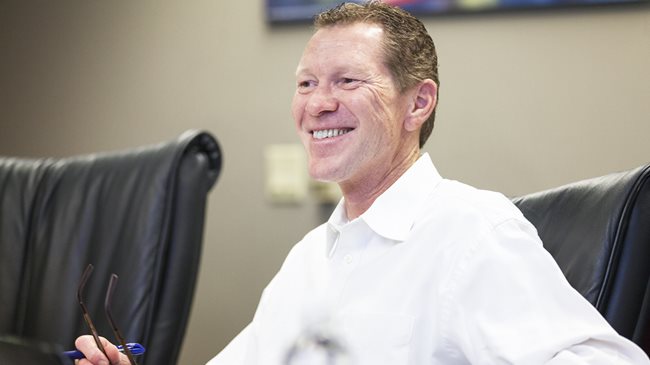 Relentless Ally
The best in class in school construction
When it comes to building schools and managing district programs, Project Executive Dennis Kuykendall, "aces it" each and every time. With his 25-plus years in construction, Dennis is deeply entrenched within local school communities located along California's southernmost Central Coast. In fact, he has developed trusted advisor relationships with over 25-percent of all Ventura County School Districts.

In the ten years he's been with Balfour Beatty, Dennis has overseen work that includes just about every project in progress or completed by the Ventura office such as the Oxnard College Student Services Building; a parking structure for the University of California, Santa Barbara; Cesar E. Chavez K-8 School in the Oxnard School District; a new K-8 Science, Technology, Engineering, Arts, Agriculture and Mathematics (STEAAM) school for the Somis Union Elementary School District; a new K-8 STEAAM school for Rio School District; the Rio School District Bond program; and the Oak Park Unified School District Measure R Bond Program. Other large projects include the William J. "Pete" Knight Veteran's Home, the Ruben Castro Human Services Center, and the National Disaster Search Dog Foundation National Training Center.

In the Oak Park Union School District, Dennis is a shining star for the work he performed at Oak Park High School. That project gained national attention for the installation of seven, first of its kind, net-zero classroom buildings that were made out of single use containers used for ocean shipping.

The buildings achieve net-zero energy consumption, save 115 tons of landfill waste by using 85 percent reclaimed material, and use high-performing and energy-efficient systems that reduce monthly utility costs. Each building features full LED lighting, ductless HVAC Risystems, floor-to-ceiling windows, and solar panels classifying the buildings as "ultra-green" and automatically qualifying for 37 LEED credits or 42 CHPS credits.

Dennis played a key role in helping the District gain additional recognition for that classroom project, as well as for Oak Park's program in general, with honors and awards from the United States Green Building Council's (USGBC) California Central Coast Chapter's Green School Award; "Green Ribbon" recognition from the U.S. Department of Education; and a Green School Leadership Award, which was presented at the Green Schools California Summit in 2011.
No matter what project Dennis is working on, his professionalism, leadership skills, passion for his work, and positive attitude fosters an uncanny ability to treat each project as though it was his own business. "To run a great business, you have to have a great team, and I'm lucky to have that in my favor," says Dennis. "I've been working with the same, trusted Balfour Beatty teammates as a cohesive unit for the past ten years now. Together with our partners, we've built amazing structures and friendships. All of us are equally committed—and it shows in the trusted advisor relationships we've built over the years. They just keep getting stronger every day."