Seattle Daily Journal of Commerce: Inspiring Stories of Women in Construction
by Darlene Septelka, University of Washington
National Women in Construction Week is celebrated on the first full week of March. The annual recognition of the 10.9% of women in the construction industry serves an important purpose: To celebrate and raise awareness of women's contributions to this male-dominated industry. The four women highlighted below represent a combined 81 years of experience and are eager to offer their advice as role models for the next generation of women who will join this incredible industry.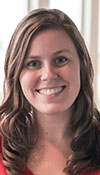 TARA HARRINGTON
ASSISTANT PROJECT MANAGER
HOWARD S. WRIGHT, A BALFOUR BEATTY COMPANY
"Women are a powerful and dynamic force in our industry."
Tara's journey

Tara's journey into construction began in high school during an economics class where students were asked to choose a career. Tara had always enjoyed drawing houses and planning out different configurations with her sister and initially considered pursuing a career in architecture. After researching the skills and attributes needed for a career in project management, Tara discovered that it aligned perfectly with her interests. When applying to the University of Washington, she found that construction management was offered as a bachelor's degree and decided to pursue it. Tara earned her degree in 2014 and believes that she made a successful career choice based on her self-assessment in high school. Tara has been with Howard S. Wright since graduating.
Challenges in the industry
When discussing barriers, Tara said, "I've gotten a lot more comfortable over the years, and I feel like I can challenge any barriers with the support of my company and the community of folks that I work with." She noted that these challenges impact everyone differently and no matter your experience, it's important to acknowledge that there is still work to be done in creating more diversity and inclusivity in the industry.
Tara also emphasized the importance of diverse perspectives in problem-solving and innovation in the industry. As each person has a unique view of the world, it's critical to have input from different individuals to find the best solutions. "Women are a powerful and dynamic force in our industry. Our contribution is vital in making decisions and solving problems because our perspectives are so different."
Industry slow to adapt — more flexibility needed
Tara discussed how the construction industry's approach to changing work environments has been rather traditional. She noted that during the COVID-19 pandemic, the industry became more innovative and flexible in adapting to new workplace strategies. However, after the pandemic, the industry was quick to return to old traditions and eager to get back to "normal." She urges the industry to continue to evolve workplace strategies by adapting to employees' needs, leveraging technology and focusing on individual productivity and value.
Belonging mentality
Tara believes that it is the little things, such as using gender-neutral language, which can make a big difference in creating a more welcoming environment for women. Tara said Howard S. Wright has created supportive "employee affinity groups" to promote further inclusivity in the workplace and industry. Tara felt that these groups, including the Connecting Women employee affinity group, have provided women a safe place to network and engage in career development discussions.
Advice to women starting their career
Tara has some valuable advice for young women who are considering a career in construction. First, she encourages them not to be afraid to jump in and try it out. Although the industry is ever evolving, women can succeed in a career in construction and make their mark in the vital infrastructure that builds our communities. Second, Tara recommends that young women challenge their peers and leaders. It is essential to have a voice in the industry. Don't be afraid to push the envelope, speak up, and challenge the status quo.
To read the complete article, click here.